CÔNG TY TNHH THƯƠNG MẠI SẢN XUẤT SIÊU THUẬT
762 Quốc lộ 1A, Phường Thạnh Xuân, Quận 12, Thành phố Hồ Chí Minh, Việt Nam
Điện thoại: +84 (028) 22106822 - +84 (028) 38919669
August 30, 2018
• Box Build
- Metal sheet or CNC for Box build packaging solutions
- Material: Aluminum, Bakelite
- Surface coating: Anodized colorless or colored as required
June 18, 2018
• Completed Solutions for Printed Circuit Board Assembly
- With automatic line (from the lead cream sweep - chip assembly - 9 zone heat) ensure quality and homogeneity
- For sample assembly, we use lead prick - Put components manually - Get sample through the Reflow 9 zone system to save time and money for stencil placement and quality is always guaranteed.

May 24, 2018
• PCB Fabrication Solutions
- We will select the right type of material to meet the requirements of the product: CEM-3, FR4 Low Tg, FR4 High Tg (Tg>170), Aluminum, Roger
- Rigid PCB: from 2 layers – 36 layers
- Flex PCB: from 2 layers – 4 layers
- Control Impedance: +/- 10%
- Min Line/Spacing: 4 mil
- Min Hole size (Finished): 8 mil (A/R = 8)
- Blind via
- Finish Plating: Hard gold Flash, Electroless Ni/Au, Pb Free
- Solder mask: Green, Black, Blue, Red
- Silkscreen: White
- Profile: CNC Routing
*** Specialize in Prototype, Quick turn Rigid PCB (2-12 layers): 5-7days
*** High Mix Low Volume, Mass Production: Within 3 weeks
April 16, 2018
• Solution for the electronic components:
- With prototype orders, we have import components from Mouser, Digikey (USA ...) every week, so shipping costs, customs declaration will be significantly reduced for our customers
- For large quantity projects / orders, please contact us for a good price from genuine !!!


January 22, 2018
• Schematic Solutions – Layout – DFM
- Give us the Functional Request, Block Diagram, we will provide the Schematic
- Send the Schematic, we will provide complete Layout
- From Complete Layout we will run DFM to PCB Fabrication for optimized circuit board
September 23, 2017
Schematics are our map to designing, building, and troubleshooting circuits. Understanding how to read and follow schematics is an important skill for any electronics engineer.
This tutorial should turn you into a fully literate schematic reader! We'll go over all of the fundamental schematic symbols: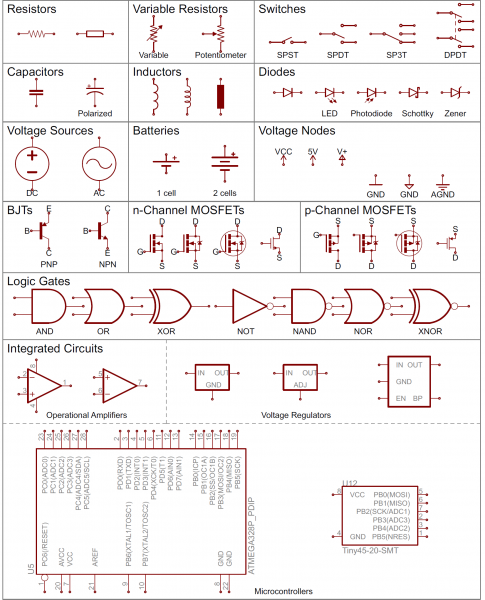 Then we'll talk about how those symbols are connected on schematics to create a model of a circuit. We'll also go over a few tips and tricks to watch out for.